Bringing Muscular and Emotional Relief to the Systems of the Body – Part 2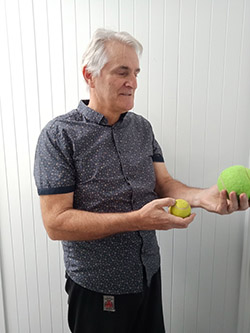 Next we are going to use some acupressure to areas of the shoulders, lower back and gluteal muscles. I have shown some different types of balls you can apply to areas of tension that you are feeling. You could also use a cricket ball, squash ball or even some rice tied up in a sock.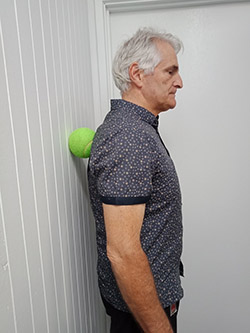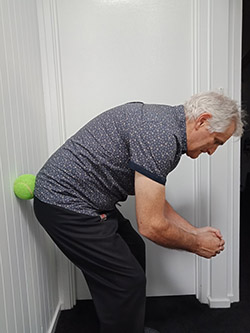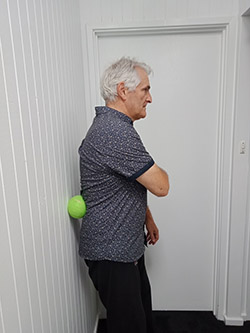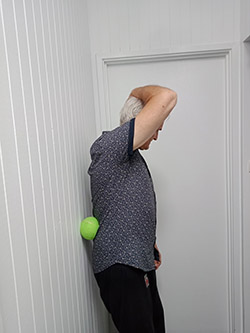 a) lf you are wanting to relieve muscle tension in any of the above areas you can use a wall or post to lean into. You can also lay on your back or on your side to get the best impact from  the press release technique that you are using.
b) Using your arm out to the side or above the head can release tension in these areas too. But do it conservatively
c) If it's too uncomfortable then ease the pressure or change slightly where the pressure is being applied. You will get better results if you can sink into it and not with force.
d) Go back to your relaxation breathing and continue this for 6 or 12 breaths.
e) For the gluteal muscles going into a stretch slightly forward like a rugby player
preparing to shoot for goal is a good position to release gluteal tension. You can activate the pressure exactly where you need it or laying on your back or on your side.
f) If you have nerve referral pain then you should discontinue or change postion or the amount of pressure.
g) Continue with you breathing throughout the session.
h) Reflect on how your are feeling after your session.
I hope you can participate in some of these practices and if you have any questions don't hesitate to contact me. There is more to come over the next few days.